We, Dutch, are frugal and like to save.
We pass on presents someone else first gave.
We call this circular economy
a special Dutch taxonomy.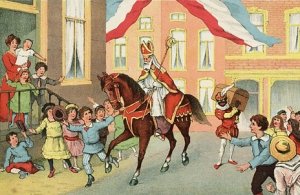 We are culturally diverse,
And love to globally disperse.
We invaded countries only for trade,
And were always nice,…after they paid.
We are independent, tall and smart
Of every pie we'd like a part.
But for this fancy guy from Spain
We once a year push for constrain.
On December 5 "Sint' judges our intent
He then will reward us or torment.
and as de don't like discrimination
He uses Black Petes for arbitration.
Of course these Petes weren't at all slaves
They just help when Sinterklaas waves, and
Is busy sitting on his horse
Telling them wat to do of course.
We Dutch think this is democratic
We like to divide the work quite diplomatic.
Organised and without delay
They'll come to all of us in one day.
We first give our own presents to the Sint
Write a poem with a hint.
Then let him return it to our young ones.
only of course our own daughters and sons.
In front of the chimney we set our shoe
Inside our wishlist for a clue.
They just drop off the present
and go away to keep it pleasant.
And so as we are practical
We use this event also tactical.
We keep our gifts and autonomy.
You see, We Dutch lead in circular economy.
written by: Irene Zijp
https://cluster.swstatic.nl/wp-content/uploads/sites/14/2018/12/Schenkman-Nikolaas1905-Intocht.jpg
302
464
Peritam
https://cluster.swstatic.nl/wp-content/uploads/sites/14/2018/10/peritam.png
Peritam
2018-12-04 09:24:35
2018-12-04 11:27:12
The Dutch and Sinterklaas